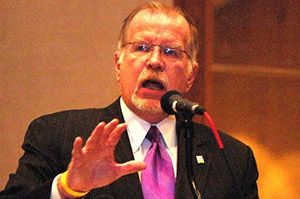 As a professional speaker, Ed has addressed over 2,500 audiences all across the country. His speaking clients include firms such as Fed Ex, Auto Zone, Verizon Wireless, AT&T, State Farm Insurance Company, the United States Postal Service, as well as numerous national conferences to just name just a few. His motivational talks center on the role that values play in the areas of customer service, sales and management.
As an author, Ed has been published over 250 times in various business magazines and has been quoted in publications such as Forbes, Business Week, Business Communications Review and ComputerWorld. His "Kindness Revolution" columns are syndicated across the country. Ed is the author of three books, including the bestseller "The Kindness Revolution™" which contains inspirational customer service stories by companies, who have replaced indifference with values in customer service. His publisher is the American Management Association.
Ed is also the founder of the non-profit advocacy initiative The Kindness Revolution™; a business-led initiative teaching both companies and students the importance of respectful and engaging behavior. His goal is to improve corporate ethics around the country, and foster confidence and trust in both businesses and communities across the nation.
Ed was recently featured in an ABCNews.com story on the sad state of customer service in the US.
Ed is a graduate of The University of Memphis and a former visiting professor at Christian Brothers University in Memphis.
WORDS FROM OUR FOUNDER: IT'S ABOUT TIME
"It's about time".
This is a common response that I get when someone first learns about The Kindness Revolution™.
Considering the current states of civility, respect, and values in our country (and around the world, for that matter…), perhaps it IS time!
Time for an emphasis on:
Encouraging students in our schools to be more respectful to their peers, teachers, and parents.

We've let this slide and it is time to re-emphasize these behaviors.

Expecting a little more in the way of customer service from the companies with whom we do business.

We seem to be settling for less when we should be expecting more!

Deserving more in the form of civility from our business leaders and politicians.

We are becoming a nation of whiners and finger pointers as opposed to a nation of doers.

Reaching out to others in our communities who are making a difference.

When was the last time you thanked a teacher, first responder, or volunteer for the work they do in YOUR community?
So if you agree that "It's about time", I hope you will enjoy looking around our website!
We have ways that you can get involved, show your support for kindness, and receive invitations to local kindness events in your community. Let us hear from you!
Thanks for your interest and welcome to The Kindness Revolution™!
Ed Horrell
Author and Founder-The Kindness Revolution™