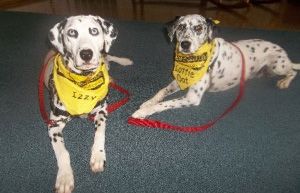 Izzy and Lottie Dot's Story
"Our names are Izzy and Lottie Dot. We are Dalmatians….and we are deaf.
Sometimes, dogs (and humans) are unloved and mistreated because they are different. In our case, we were unloved and bullied by our owners. We were separately, but similarly, abandoned and left alone. This is the worst type of bullying. Fortunately, we were both rescued by our forever Mom, Patricia (we call her Mama Spotter). Mama Spotter told us we were special and then she showed us that we were! She taught us to be therapy dogs, which means we get to travel to show students, armed services vets, patients and special needs children that it is cool to be kind.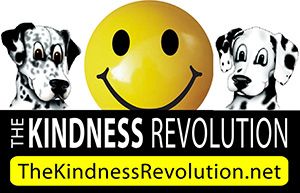 We love our new life and all that we are doing. We get to show what a Spotter does, like stop, drop and roll and press a smoke alarm button. We love teaching anti-bullying and fire safety and especially love working with students and kids. We love all of them and boy, do they love us! We also love being the official mascots of The Kindness Revolution™. This is why you see us on the posters…we want to help show everyone that it is cool to be kind to each other.
We are living examples of love and kindness. We were bullied and unloved, but thanks to another person's kindness, we now SHOW love! We want you to join us in spreading kindness!
And spreading kindness is easy!
Just be nice to everyone.
Remember deaf dogs hear with their hearts not their ears."
Love ~ Izzy and Lottie Dot